EPA says Kennecott doesn't need permit at Eagle Rock
Submitted by Staff on Fri, 07/02/2010 - 12:18pm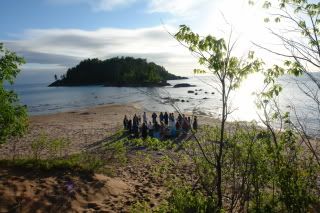 The New York Times: MARQUETTE, Mich. (AP) -- The U.S. Environmental Protection Agency says Kennecott Eagle Minerals Co. doesn't need a federal permit to build a nickel and copper mine in Michigan's Upper Peninsula.
The agency informed the company of its ruling in a letter made public Friday, on the start of a holiday weekend -- the preferred time to release news you're hoping to keep quiet.
The EPA said previously that a federal permit was needed for the mine's wastewater discharge system, but now says it's not required because the company announced a redesign in March.
The federal permit was the last regulatory hurdle for Kennecott Eagle, which already has state permits to build and operate the mine. Drilling is expected to start next year, AP reports.
But don't bet on that just yet. Eagle Rock, a sacred site to Native Americans, has been the site of vigils and protests by activists opposed to the mine, and organizing to oppose Kennecott is continuing. Earlier story. Stand for the Land website.