2010/05/28: AP: Vigil at Michigan Mine Site Ends With 2 Arrests
Submitted by Staff on Fri, 05/28/2010 - 10:50am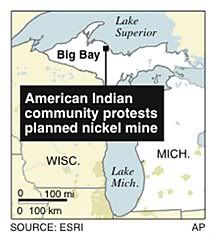 For a month, a small group of American Indians and environmental activists occupied an isolated patch of woods in Michigan's Upper Peninsula where the world's third-largest mining company is preparing to drill for nickel and copper. Representatives of the tribe met with WNPJ members at the spring Steering Committee meeting in Oneida in May.
The protesters vowed to stay put, saying the mine would desecrate sacred ground and pollute waters that flow into nearby Lake Superior. But their vigil ended Thursday, as police enforced an order by Kennecott Eagle Minerals Co. to clear the area and arrested two people on misdemeanor trespassing charges.
Read the Associated Press report.
Indian Country Today reports: BIG BAY, Mich. – The defenders of sacred Eagle Rock sat in a circle and wept as they were surrounded by dozens of heavily armed state and local police officers who raided the Eagle Rock encampment the morning of May 27 arresting two campers at the request of Kennecott Eagle Minerals, who wasted no time destroying the month-old camp to make way for their nickel and copper mine.
Background: WORT Radio show with tribal members before the arrests.
Interlochen Public Radio reports
Police, this morning, cleared out six protesters on the site of Kennecott's planned nickel and copper mine in Marquette County.
Two Native people subjected themselves to arrest on trespass charges. Eagle Rock is considered a sacred place by the Keweenaw Bay Indian Community. Tribal members and area residents have been camping in protest at the rocky outcropping for weeks.
Kennecott plans to dig into the base of the rock for its mine.
Cynthia Pryor of the Yellow Dog Watershed Preserve, which has been fighting the mine, faces trial on her own charge of trespassing at the site. She says Eagle Rock has always been sacred to the Tribe, but authorities have turned a deaf ear.
"The state of Michigan and Kennecott have ignored that premise," she says. "It was their right to be there to protect Eagle Rock. And it's unfortunate that Kennecott did not use, I think, negotiating terms with the Keweenaw Bay Indian Community in determining good access to the site without people having to be arrested."
A fence has now been erected around the mine site and police say anyone who breaches it will be arrested.
Stand for the Land website has more.
Kennecott says the campers were removed for their own safety and that of construction workers. Last Sunday a protestor climbed onto a piece of machinery while it was being used. Spokeswoman Deb Muchmore says the company has offered to let them set up a camp outside the fence across from Eagle Rock.
"The right to protest and to civil disobedience is a well respected right in the U.S. And we fully understand the point of view they are coming from," she says.
Kennecott and officials from the Keweenaw Bay tribe are supposed to meet again to talk about conditions under which Indian people still could have access to Eagle Rock during construction.