Multi-state meeting discusses CFNF strategy, tactics
Submitted by Staff on Fri, 05/28/2010 - 10:11am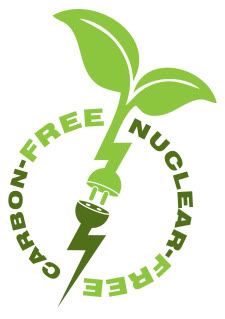 Forty activists representing several Midwestern states met at the Midwest Renewable Energy Fair in Custer, WI on June 20 to exchange information, share experiences, and brainstorm on ideas for promoting a Carbon Free Nuclear Free energy policy that doesn't rely on either fossil fuel or nukes.
Wisconsin, Minnesota, Michigan, Indiana, Iowa, and even New Mexico were represented at the two-hour session in the fair's networking tent, organized by Wisconsin's CFNF coalition.
An attempt to ease restrictions on new nuclear reactors in Wisconsin was packaged with renewable energy in a Clean Energy Jobs Act that failed to pass the Wisconsin legislature thus spring, Diane Farsetta of the Wisconsin Network for Peace and Justice (WNPJ) reported. An outright repeal of the state's so-called nuclear moratorium also died, but Alfred Meyer of Physicians for Social Responsibility (PSR) said one of the anti-nuclear legislators, State Sen, Mark Miller, believes the repeal bill will be introduced by a Democrat and pass next session.
Representatives of Stand for the Land, a group working to stop a proposed Kennicott sulfide mine in Michigan's Upper Peninsula, told of their struggle and protests to protect Eagle Rock, a sacred site to Native Americans. They asked people to contact the Environmental Protection Agency to express their concerns and opposition, and are considering proposing a mining moratorium in Michigan similar to what was passed in Wisconsin. More information is available on the website:
http://standfortheland.com/
Bill Hilty, a Minnesota legislator who chairs the energy policy committee in the Minnesota House, said amendments to repeal Minnesota's nuclear moratorium might have passed during the last session, but Hilty offered his own amendment that said taxpayers and ratepayers could not be asked to pay for cost overruns, plus other provisions that resulted in the utilities giving up on the bill. But the issue will be back in Minnesota next year, too, he said. Minnesota also has a moratorium on new coal plants, but Hilty warned that "there is a real stampede" on energy and the nuclear industry and utilities will push hard again next session.
During a discussion and brainstorm session, ideas included:
-- Asking legislative candidates to respond to a questionnaire on energy issues this fall, and inviting them to speak to organizations' meetings on the issues.
-- Focusing on taxpayer bailouts of the nuclear industry, since the public is incensed about bailouts of Wall Street and BP. Educate people about the Price Anderson Act which makes taxpayers, not utilities, responsible for most costs of nuclear accidents, and consider a campaign to repeal Price Anderson.
-- Beginning a campaign now to see that nuclear issues are separated from renewable and clean energy proposals in next legislative session.
-- Comparing low risk energy (renewable) to high risk energy (nuclear and oil) and compare up front costs as well
-- Enlisting renewable energy workers and installers who face competition from nukes.
-- Making information available about renewable energy companies offering services now, to counteract the idea that renewable are far off in the future.
-- Being sure not to ignore transmission line issues, which are a critical component of policy.
-- Taking positions based on public health, not just economics. "Our job is to protect what we have and set some limits. It's not our job to come up with the perfect solution."
-- Connecting BP oil disaster in the Gulf with the potential for a nuclear disaster, which makes it more believable.
-- Showing that renewables are a real option, practical, low cost, low risk.
-- As we upgrade technology, as has happened with computers and TV, demand for power need not increase, but we could actually drive down demand.