Army Finds Dangerous Levels of Explosives in Sumpter Groundwater
Submitted by Staff on Thu, 05/20/2010 - 12:36pm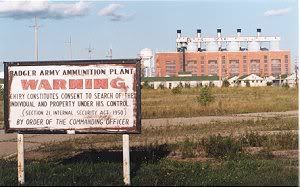 Citizens for Safe Water Around Badger has discovered that exceedingly high levels of the carcinogenic explosive Dinitrotoluene (DNT) have been detected in groundwater at the southern boundary of Badger Army Ammunition Plant in the rural areas of Sumpter. CSWAB regularly reviews the hundreds of publicly-available documents placed in the local libraries and found the Army's December 2009 groundwater testing data there.
CSWAB, a WNPJ member group, telephoned the U.S. Army early on May 20 and officials confirmed that concentrations of DNT as high as 341.5 micrograms per liter (ug/l) were detected in groundwater monitoring wells near Keller Road. These levels are more than 6,800 times higher than the Wisconsin Health Advisory Level of 0.05 ug/l for total DNT in drinking water. Past detections in these wells have not exceeded 0.2 ug/l.
"CSWAB has asked the Army to immediately begin bi-weekly testing of nearby drinking water wells and to supply free bottled water to families that want it," said Laura Olah, Executive Director of CSWAB. "At these very high levels, we want to make sure that even short term exposure is avoided."
The primary source of the groundwater contamination is the Propellant Burning Grounds, a hazardous waste disposal site inside Badger. DNT, which is actually a mixture of 6 different forms (isomers) of the chemical, was used in the manufacture of propellants and is classified as a probable human carcinogen.
"The Army installation director was not aware of the problem until our call today," Olah said. "Officials said that the March 2010 groundwater data is not back yet and that expediting testing for certain groundwater monitoring wells is not possible because testing is done in batches."
Army officials told CSWAB that the SpecPro laboratory has confirmed the December test results. It is possible, the Army said, that the concentrations are so high because the monitoring well is located next to a high capacity groundwater extraction well which draws groundwater from "all around" the test well. For this reason, the true extent of the problem is difficult to pin down.
The U.S. Army is currently testing residential wells on
Keller Road
and other surrounding rural areas on a quarterly basis. In recent years, low levels of DNT have been found in residential wells along
Keller Road
. The Army has already installed new drinking water wells for homes at the nearby Water's Edge development when DNT concentrations exceeded health advisory levels.
"This is a very serious health concern. If this was a drinking water supply, this kind of situation would cause health officials to shut down and replace a water supply. In infants and young children, DNT interrupts the normal supply of oxygen to the body and interferes with the hemoglobin's ability to uptake and deliver oxygen," said Dr. Peter deFur, an environmental health consultant working with CSWAB.
For more than 20 years, CSWAB has been working to mobilize and empower rural communities near
Wisconsin
's Badger Army Ammunition Plant and other contaminated
U.S.
military sites in support of a sustainable future that will protect and restore the integrity of soil, water, air, and biological diversity. For more information, visit their website at www.cswab.org.