Dane Democrats back Carbon Free Nuclear Free campaign
Submitted by Staff on Sat, 03/13/2010 - 10:44am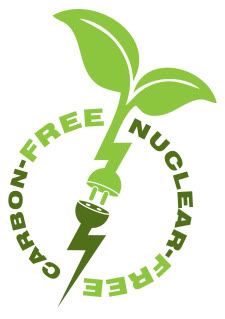 Dane County Democrats have taken a stand against weakening state laws on nuclear power in Wisconsin, and have endorsed a Carbon Free Nuclear Free (CFNF) energy policy for the state. Party members passed a resolution on the issue after hearing a talk from Jennifer Nordstrom, coordinator of the national CFNF campaign, at their monthly meeting Mar. 10. The Democratic Party of Milwaukee County passed a similar resolution in October.
The following resolution was adopted by the Dane County Democratic Party at its monthly membership meeting on Wednesday night in Madison:
RESOLUTION ON CARBON FREE NUCLEAR FREE ENERGY POLICY
WHEREAS since 1984 Wisconsin has had a sensible law requiring that before more nuclear power reactors can be approved there must be a federal waste disposal site in operation and a finding that nuclear power is economically beneficial to Wisconsin residents; and
WHEREAS after more than 50 years the nuclear industry has not solved the problem of how to safely dispose of high level radioactive waste, which must be kept out of the environment for hundreds of thousands of years; and
WHEREAS a recent book, "Carbon Free and Nuclear Free: A Roadmap for U.S. Energy Policy," provides a detailed analysis showing that the goal to phase out the use of both fossil fuels and nuclear power by the year 2050 is technically and economically feasible; and
WHEREAS renewable energy and energy efficiency technologies are faster, cheaper, safer and cleaner strategies for reducing greenhouse emissions than nuclear power,
THEREFORE BE IT RESOLVED that the Dane County Democrats go on record in opposition to any weakening of current state law regulating new nuclear reactors, and
BE IT FURTHER RESOLVED that the Dane County Democrats urge the governor and state legislators to pursue and adopt a carbon free nuclear free energy policy to make Wisconsin's energy 100 per cent renewable by 2050.