Cassandra Dixon reports on troubles in Tuwani, Palestine
Submitted by Staff on Fri, 02/26/2010 - 10:12am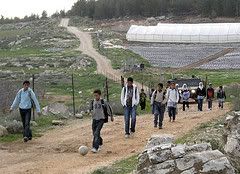 Cassandra Dixon of WNPJ member Mary House in Wisconsin Dells reports from Palestine:
(Photo: On the way to school with soccer ball and military escort.)
Hi Friends -- The past few weeks have been filled with troubles here in Tuwani. We so frequently see settlers out practicing with slingshots and rocks, and chasing shepherds, that it is almost becoming normal. A few days ago the army arrested a shepherd in a very violent way,
pushing women from his family to the ground and headbutting another shepherd. There was no word from him for days, lawyers attempting to find him received conflicting information about where he was being held from the army and the police, and the family and everyone here has been terribly worried.
Today he was released and made it to the home of a cousin, but is not yet back in his village. We understand from the lawyer that the charge against him is for resisting arrest -- no reason has been given by the army for coming into his village, violently grabbing him, and taking him away blindfolded, and of course there was no warrent for his arrest.
The situation here with school children walking from Tuba to Tuwani also remains bad -- on several incidents the army has not arrived for the escort and the children have had to take a longer, but still dangerous path to or from school. They have been chased by settlers, and have been late both for school in the morning and arriving home at the end of their day.
The day after Khalil's arrest, children from Tuba had to go and meet the same soldiers who had pushed and shoved their parents and older siblings the day before, and walk in front of the jeep to school -- kind of unbelievable.
A couple of news releases on these events follow -- thanks so much for your care for this corner of the world!! cassandra
23 February, 2010
On Tuesday afternoon, February 23, 2010, Israeli soldiers arrested a Palestinian shepherd, Khalil Ibrahim Abu Jundiyye, from the village of Tuba.
Abu Jundiyye, 19, was grazing his flock near Tuba when four Israeli soldiers, coming from the nearby Ma'on settlement, chased him and another shepherd back to Tuba. The soldiers aggressively pursued the two shepherds while Tuba families attempted to keep the soldiers away from the shepherds. One soldier head-butted a Palestinian young man as he pleaded for an explanation as to why his brother was being arrested. Another soldier loaded his rifle and pointed it in the air, threatening to shoot, forcing the families to quell their protest.
Once handcuffed, the soldiers quickly led Abu Jundiyye away from the area, threatening arrest for anyone who followed them. Two members of Christian Peacemaker Teams, standing at a distance, saw that the soldiers forced Abu Jundiyye to walk blindfolded on rugged terrain for nearly one kilometer.
An Israeli human rights organization later reported that Abu Jundiyye was taken to Beit Yatir checkpoint near the southern edge of the Green Line, adjacent to Mezadot Yehuda settlement.
Abu Jundiyye remained in custody overnight, but his whereabouts are unknown. According to the Israeli District Coordinating Office, Abu Jundiyye was presumably arrested for assaulting an Israeli soldier. The two Christian Peacemaker Teams members who were present during the incident did not witness Abu Jundiyye assault a soldier. Nor is that charge confirmed in any of their video footage of the incident.
22 February, 2010
On Monday morning, 22 February, 2010, four Israeli settlers chased Palestinian children who were walking home after school in At-Tuwani Village. For one hour they had awaited the Israeli military escort assigned to ensure their safe passage to their home villages of Tuba and Maghaer Al-Abeed.
After the Israeli military refused to respond to CPTers' repeated phone calls for an hour, Israeli settlers approached on a farm tractor. Two men, one masked, drove down to the children's regular waiting point on the dirt road that bisects the Ma'on settlement and the Havat Ma'on settlement outpost. Using the tractor, they tried to form a barricade by pushing boulders onto the road surface.
Normally, the road is in daily use by the children and their escort, because it connects their home villages with At-Tuwani and Palestinian cities to the north. However, three times in the previous three school days, the Israeli soldiers had failed to perform their assigned escort.
The two settlers returned to their outpost. The children decided to give up waiting for the military and to return home by a longer path around the settlements. As they walked, four settlers came out from Havat Ma'on and chased them. As the children ran toward home, Israeli military jeeps appeared ahead of them, but stopped while soldiers spoke with the four settlers.
Soldiers detained the children and refused to provide safe passage around the settlement. They claimed that someone in Havat Ma'on required emergency medical transport, and pointed to two Israeli ambulances that had appeared ahead on the path. The children detoured yet again, taking an almost circuitous path home through dangerously rugged terrain. This path takes an hour, compared with their normal military escort, which takes half an hour. They finally arrived in Tuba and Mughaer Al-Abeed three hours after school.
The school children of these villages require the military escort because of Israeli settlers' repeated attacks and harassment, year after year. Whenever the soldiers fail to meet them promptly before and after school, the children wait in areas under "de facto" settler control.
For a thorough report on the school escort in 2007 and 2008, including maps, photos and interviews with the children, please see A Dangerous Journey