Fort McCoy protesters out of jail
Submitted by Staff on Fri, 01/29/2010 - 4:23pm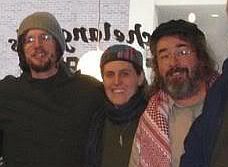 Josh Brollier and Brian Terrell have now served their time in the Dane County Jail - and are on their way to their homes. See more about their story below:
MADISON — Two peace activists arrested for trespassing at Fort McCoy in 2008 were sentenced Thursday in federal court to 14 days in jail, a year after refusing to pay a $75 fine.
Brian Terrell (on the right in photo) of Maloy, Iowa, and Joshua Brollier of Chicago (left in photo) told Federal Magistrate Stephen Crocker they and others wouldn't be deterred by a jail sentence and they didn't believe their act of civil disobedience warranted punishment.
"Jail will strengthen others in their resolve," said Terrell, who claimed to be a "professional defendant" using courts to advance an anti-war agenda.
Terrell said the trespass case against him misses the bigger offense at Fort McCoy of preparing soldiers for an "illegal war."
Terrell and Brollier, who said his father is a prosecutor, were among dozens of individuals arrested at Fort McCoy's main gate in August 2008 as Wisconsin's 32nd Infantry Brigade was being trained for deployment to Iraq.
The anti-war activists, including Eileen Hanson of Winona, Minn., each were fined $75 in January 2009 for trespassing and given 60 days to pay. Hanson paid the fine Thursday, saying while she had been prepared to face up to 90 days in jail, "circumstances in my life have recently changed."
Hanson, who works for an area homeless shelter, added she was impressed with Terrell's and Brollier's willingness to go to jail and thankful the 32nd Brigade since has returned to Wisconsin.
Terrell and Brollier asked to be incarcerated immediately, saying they would forego their appeal rights.
"I prefer to continue my resistance work instead of this legal battle," he said.
Assistant U.S. Attorney Meredith Duchemin had sought a 30-day sentence, saying the jail time would deter others who may want to trespass at Fort McCoy.
Info? jeffleys.vcnv@gmail.com. Jail rules and bios of Josh and Brian follow:


MONEY - Dane County Jail:
Cash, money orders, and cashiers checks can be placed on an inmate's account 24 hours per day, 7 days per week at the Bail & Release Window inside the Public Safety Building located at 115 West Doty St. Money orders, or cashier's checks may be sent to an inmate via U.S. Mail. No personal checks will be accepted.

MAIL
Any mail, letters, or correspondence must be sent to the inmate via the U.S. Mail. We do not allow any mail to be dropped off for an inmate. No boxes are allowed. No packages larger than 10" x 13" are allowed. No hard-covered books allowed.
Inmates may have only the following items mailed in:

* Soft Covered Books (2 maximum)
* Magazines (2 maximum)
* Photographs (Non-Polaroid Only. Cannot Contain Nudity or Gang Signs)
* Legal paperwork

Address mail to the inmate at:
Dane County Jail
115 West Doty Street
Madison, WI 53703

Dane County Jail - Visitation Rules
The Sheriff's Office has the authority to terminate visits, to deny visitation privileges and to deny visitors at any time. For safety and security reasons the following list documents some of the rules that apply to the visitation areas. Violation of any of these rules may result in a denial of the visit, as well as denial of future visitation privileges:

* Every person entering the Jail system must show a picture identification card, which includes a description of the person to the attending jail staff.
* Professional visits may be allowed to conduct official, legitimate business. Anyone requesting a Professional visit must also show a business card, which indicates their affiliation with the business for which they are requesting the visit.
* Any person requesting to have access into the jail, other than the visitation area, must have prior approval by Jail Administration.
* With the exception of professional visits, inmates are not allowed visits prior to going to initial appearance court.
* Visits are by appointment only.
* It is the inmate's responsibility to notify visitors of the date and time of their scheduled visit.
* Under no circumstances may a visitor give items to an inmate without prior approval by Jail staff.
* Only inmates who are sentenced with Huber privileges are allowed contact visits.
* Visitors cannot be under the influence of drugs or alcohol.
* Visitors must cooperate with Sheriff's Office staff and the visitation process.
* Visitors cannot bring weapons, drugs, alcohol or any other contraband into the visitation area.
* Visitors will not cause any type of disturbance or situation, which may compromise the safety and security of the jail.
* Visitors are subject to search and must cooperate with the search procedure.
* Visitors may be denied if they are a known co-defendant, victim or witness of the inmate.
* Visitors may be denied if there are reasonable grounds to believe that their presence would constitute a clear and probable danger to the safety and security of the jail or would interfere with the orderly operations of the jail.
* Any person under 18 years of age must be accompanied by a parent or legal guardian. An unaccompanied person age 16 or 17 may visit, if the person is married to the inmate or if the person is visiting their incarcerated parent or legal guardian, but must be accompanied by an adult (age 18 or older). It is the responsibility of the visitor to provide proof of their relationship to the satisfaction of the jail staff.
* The following items are not allowed into the visitation areas, they may be secured in a locker in the lobby or removed from the building:

Purses/handbags, backpacks, diaper bags (one diaper will be allowed with an infant), infant seats, strollers, keys, tobacco products, matches, lighters, cellular phones, pagers, cameras, drugs, any type of food or drink, except one baby bottle for an infant, guns, knives, OC spray or any type of weapon.
* For safety and security concerns and to foster a "family" atmosphere, the following apparel is considered inappropriate and will result in the denial of visits:

Coats, transparent clothing, swimsuits, underwear worn on the outside of clothing, clothing with revealing holes or tears which expose any portion of genitalia, shorts, skirts or dresses which are shorter than fingertip length (if visitor is standing naturally, with hands straight down the side of the body and fingers are extended), tops which expose the midriff, strapless, tube and halter tops and strapless dresses. Blouses, shirts and dresses, which are low, cut, skirts with revealing slits. Clothing or accessories with obscene or profane writing, images or pictures. Gang or club-related clothing or insignia indicative of gang affiliation. This includes, but is not limited to, motorcycle jackets bearing club logos and footwear.
* Footwear and shirts are required. Footwear must remain on the feet at all times.
* Pets are not permitted, unless a supervisor approves an animal, which is trained in assisting individuals with specific medical issues
* Visits are generally 45 minutes in length but may end sooner at the discretion of jail staff.
* Huber inmates are allowed up to three (3) visitors at one time. Non-Huber inmates are allowed one (1) visitor at a time.
* During contact visitation, inmates and visitors must be kept apart at a reasonable distance. The inmate should be seated directly across from the visitor if possible. Passing any items during the visit is prohibited.
* All children must be attended to at all times during the visit and must remain at the assigned table with a supervising adult. Children are not allowed to run freely around the room.
* Chairs are not to be moved from one table to another unless approved by the Sheriff Aide.
* If the visitor wishes to leave prior to the end of the scheduled visit, the inmate must remain in Visitation and stay seated. Inmates are not allowed to speak with other inmates or visitors. Any inmate violating these rules will be removed from visitation.
* Inmates must remain seated at their assigned table at all times. The inmate will not use the restroom or vending machines.
* Visits will be terminated if either the inmate or visitor acts in a disruptive or inappropriate manner.



More about Brian and Josh:
Brian Terrell (53) is from the Strangers and Guests Catholic Worker community in Malloy, Iowa. In the late 1970's he lived at Mary House Catholic Worker in New York City. He has long been engaged in social justice work and is a longtime practitioner of nonviolent civil disobedience / civil resistance. He is the former director of Catholic Peace Ministry in Iowa. Brian is an active participant in campaigns organized by Voices for Creative Nonviolence. He is one of the Creech 14--those who, last April, engaged in the first ever act of civil disobedience at Creech Air Force Base in Nevada to bring attention to and to resist the increasing use of unmanned drones in the air war in Afghanistan and Pakistan (the drones are controlled by pilots stationed at Creech).

Joshua Brollier (26) is Co-Coordinator of Voices for Creative Nonviolence. He is active with Francis House Catholic Worker community in Chicago. Prior to joining Voices he lived in Memphis where he worked with refugees from Afghanistan, Sudan, and Somalia. He also spent three months in Zimbabwe in 2004 working with youth left orphaned by the AIDS epidemic. He studied African and Latin American history at the University of Memphis and has been involved in various positions working with youth since he graduated in 2006.